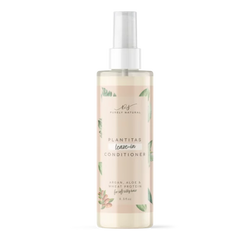 Plantitas Leave in Conditioner
Leave-in products provide extra moisture to the hair, protect it from damage, and help detangle the strands. Nearly every hair type — curly or straight, natural or color-treated — can benefit from the use of leave-in conditioners.
Wheat protein is able to infuse into the thin strands of your hair due to its lightweight. It is linked to repairing damaged hair follicles by embedding additional proteins into the follicle. Wheat protein is also known to attract water and moisture, adding volume and fullness to your hair.